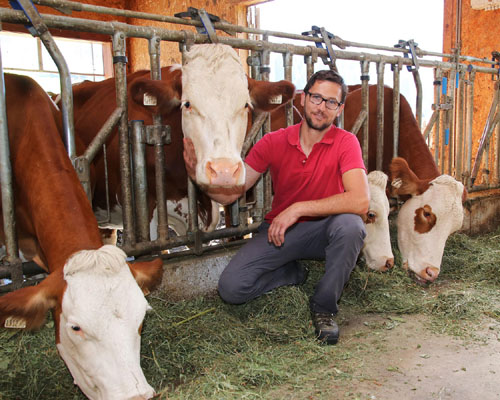 The Stockhamhof is located on the valley floor, at the entrance to Kleinarl. The buildings are idyllically situated in a open location slightly above the village. The Gwehenberger family has been running the farm since 1994 according to the high biological guidelines of Bio Austria. Christoph Gwehenberger took over the farm from his parents in 2011 and converted it into a modern farm estate with the highest standards of animal welfare. Christoph is one of the three organic pioneers and co-founder of Bio aus dem Tal.
Milk and meat
The Stockham is one of the suppliers of organic milk from the valley. Other products include organic beef and pork. North of the Stockham is the small, local slaughterhouse and cold store for regional meat production in the valley – without animal transport.
Guests welcome all year round
The second mainstay is vacations on the farm. At Stockham, apartments for 2 to 8 people are rented to holiday guests all year round. On the mountain side of the courtyard is the climbing world, the adventure land and the start of many hiking tours from the courtyard. The children can have great fun in the natural swimming pond.
In winter, the nursery slopes and the lifts to the ski area are easily accessible on foot. Camping pitches are available to individuals and friends of camper life during winter for long or short stays.