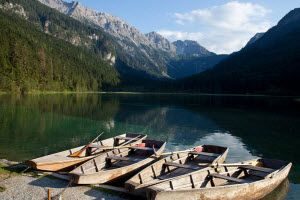 Jägersee is a picturesque lake at the end of the valley of Kleinarl, situated at an altitude of 1099 m in the Radstädter Tauern. Like the higher situated Tappenkarsee, the Kleinarlerbach runs through the Jägersee provides it with fresh (melting) water. The lake is stocked with rainbow trout from the Tappenkarsee.
The Jägerseehaus at the Jägersee
In the 18th century, the Salzburg archbishops built the Jägerhaus on the side of the lake. The estate has been owned by the family Nesselrode since the 20th century who takes care of the hunting around and fishing in the lake.
The Jägersee is a popular destination, due to its location in the conservation area (LSG18). It is directly accessible by car or public transport. A combined walking / bike path offers easy access on foot or by bicycle from Kleinarl, which is only a few kilometers away. The lake is surrounded by a path that is easily accessible for prams, and there is a cozy terrace where you can rent a rowboat.
Hiking and cross-country skiing
From Jägersee a hiking trail leads towards the Tappenkarsee. It is about 3 hours from the parking lot at the Jägersee. In the summer it is possible to drive further up the road until the Schwabalm. From there the walk is only 2 hours.
In winter there is a cross country skiing trail from Wagrain to Jägersee which offers a scenic drive through the valley of Kleinarl. This trail passes the terrain of Stockham, and you can start skiing right from your apartment.
Visit Jägersee
Would you like to discover the Jägersee? Walk its beautiful trails? Or ski cross country to the Jägersee? Book an overnight stay at our accommodation in Kleinarl, and you will be assured of a carefree holiday.