Christoph Gwehenberger is one of the 3 founders and initatiors of BIO aus dem TAL (organic from the valley), an organic brand from Kleinarl. The products can be bought at the farm and emphasize the organic tought, that dominate at the Stockhamfarm. Animal welfare and pure taste have the highest priority.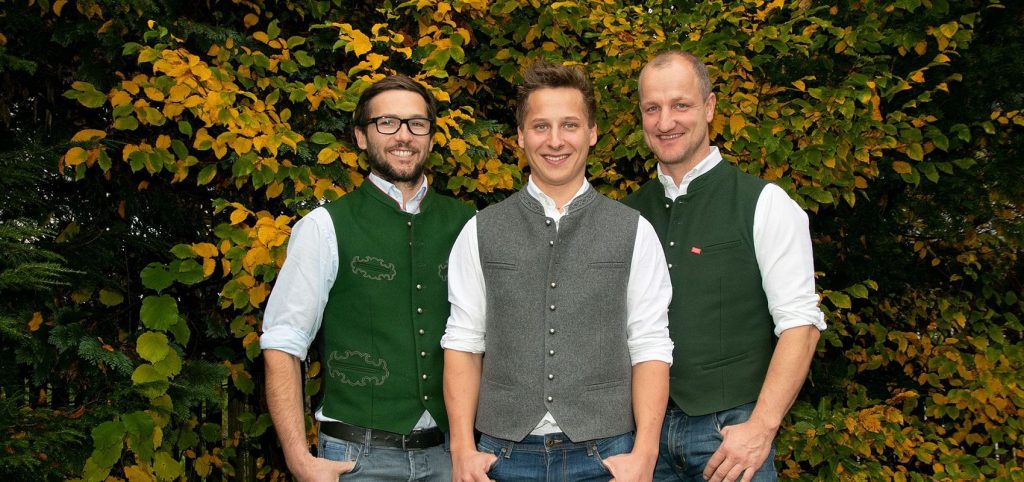 Three organic farmers and family farms in Kleinarl:
The Schwabhof, Stockham and Hirschleiten – joined forces in 2017 and in 2018 built the Milchwerkstatt, a farm dairy at Hirschleiten 1200 m above sea level.
There, organic milk from the natural jewel of the Kleinarl Valley is refined into high-quality organic products according to traditional recipes, with a love of farming craftsmanship and many fresh ideas. The focus is on genuine taste, sustainability and love of agriculture.
The premium recipes are therefore also completely without artificial additives such as flavors or preservatives – for the genuine, unadulterated taste. The brand for organic from the valley stood in the initial phase for the milk products of the three pioneers and is now much broader. Eggs, bread and pastries, herbs, sausages and much more now bear this regional organic label.
The 3 pioneers from Kleinarl want to position themselves clearly as rural artisanal organic producers. They set with other organic farmer colleagues from the Wagrain-Kleinarl valley a sign against the industrial organic light products of the food chains. They want to be independent farmers and not be economically dependent on the food industry and the large dairies.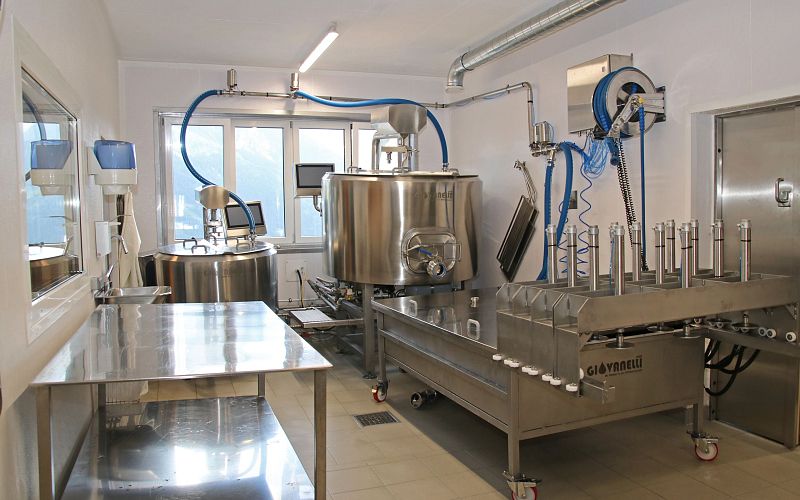 Three cheese high:
The three pioneers and initiators of "Bio aus dem Tal" try to return to the roots of agriculture.
To be self-determined farmers who produce valuable food and market it regionally – that is what they see as their calling. They do not see their role as farmers in being price and quantity dictated suppliers to the food industry.
To deliver regionally produced best food over long distances to the industry and then to deliver cheap, industrial and standardized goods from all over the world to the valley has no future, is not sustainable and for them absurd.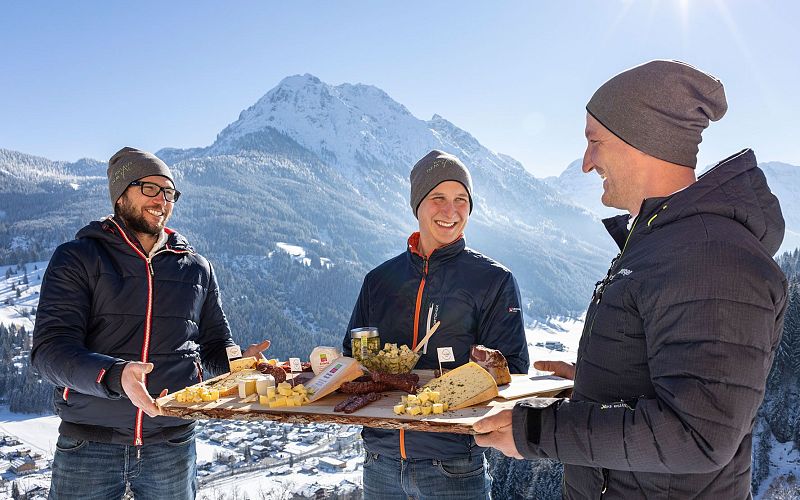 The best from the valley for the valley:
Guiding principle of the organic farmers from Wagrain-Kleinarl
Under the motto "The best from the valley for the valley", food of the highest quality is produced and available to the people of the valley, both locals and guests.
Less industrial junk is delivered to the valley and the self-sufficiency of the valley is increased – and with incomparably better quality – in terms of enjoyment and health.
The farms will become more colorful again. More pigs will be kept again, because the resulting whey is an ideal animal feed. Large home gardens, orchards, potato fields, herb, vegetable and grain cultivation will enrich agriculture and tourism in the valley. Farmer & innkeeper as a partner.
Sustainability is based on 3 pillars Economic – Ecological – Social:
The sustainability of the products of "Bio aus dem Tal" is essential principle and value. The economic sustainability, which ensures the survival of the farm, creates new year-round jobs, boosts the regional economy, motivates the businesses of the valley to switch to organic and participate in" Bio aus dem Tal" are the most important points.
The ecological sustainability includes that the products travel as short transport distances as possible, that nature conservation, animal welfare, biodiversity are secured as much as possible through the management (already much created through organic certification of farms), that in the choice of processing, packaging materials, suppliers, etc., the environmental impact is kept as low as possible.
Social sustainability for organic from the valley concerns appreciative and fair treatment of suppliers, customers, employees, etc. The non-homogenized milk and the claim to offer the food fresh and processed as little as possible stand for the health sustainability at "Bio aus dem Tal".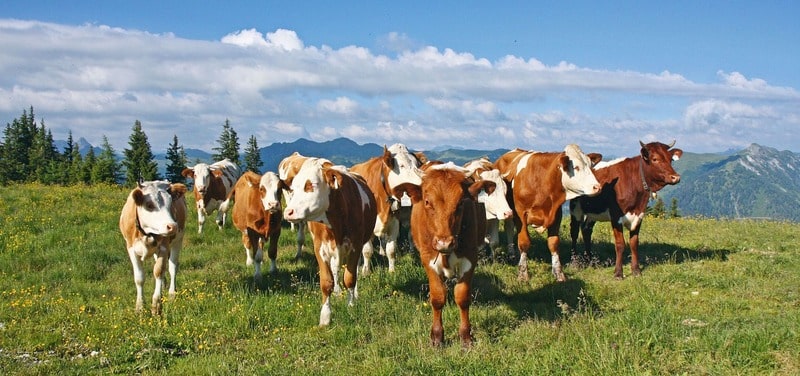 Regionality
In addition to the self-produced organic products from the valley, regional products are offered. When purchasing products, care is taken to ensure that they are available regionally in Bio Austria quality in the best case. If this is not possible, the regionality is divided as followed and if organic products from the innermost circle are not available, the radius is extended to the next larger region-circle.
If the products are also not available there, the radius is extended to the next larger circle. If the products are regional, but not available in organic quality, they can be sold under the name "Regional aus dem Tal".
Bio from the valley wants to create products with added value. This includes, in addition to the already mentioned areas of sustainability and regionality, that everyone has the opportunity to experience the production chain from the grazing cow to the cheese bread, from the pig to the bacon in the valley. The high quality of the agricultural products can be consumed on site.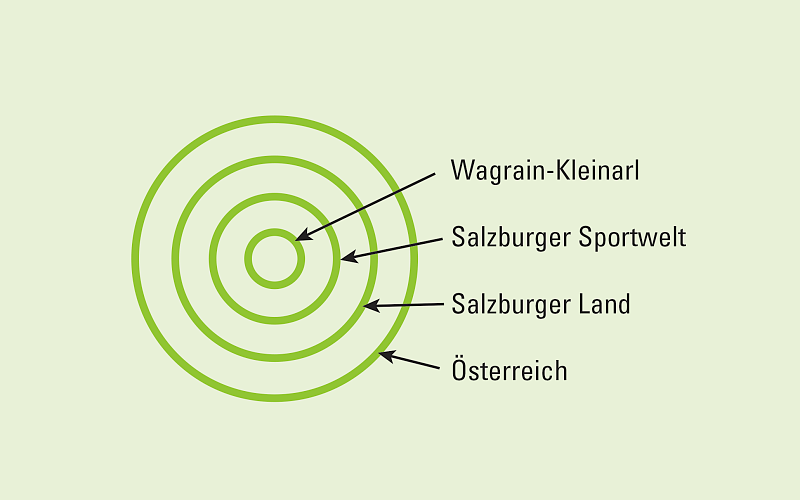 Our wide range of products:
In recent years, there has been a strong increase in awareness of healthy eating and sustainability, which has led to a growing interest in organic products.
Organic products are characterized by their natural origin, the absence of chemical additives and respectful treatment of animals and the environment. They are the result of ecologically responsible farming that avoids the use of synthetic pesticides, genetic engineering and artificial fertilizers.
Organic products not only offer health benefits for consumers, but also help to preserve biodiversity and protect the environment. More and more people are therefore making a conscious decision to buy organic products, thereby supporting a sustainable and holistic way of life.
Our cheese range:
Artisan produced with the highest hygienic standards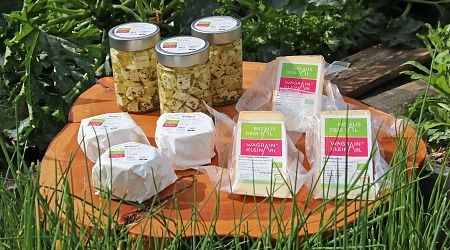 Cheeses from our dairy factory:
Biobert • Camembert
Chilibert • Camembert with Chili peppers
Bioberta • Soft cheese matured with red culture
Schnittiger Kleinarler • Semi-hard cheese
Kräuterprinz • Semi-hard cheese with herbs
Peppone • savory semi-hard cheese affinated with peppercorns
Bocksberger • with fenugreek seeds
Dorfkönig • Mountain cheese matured for at least 6 months
Kräuterlinge • Cream cheese in oil
Meat & Sausages (born, grown and slaughtered in the valley)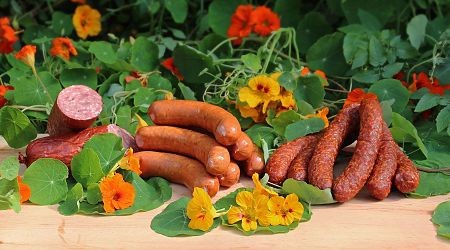 Bacon and sausages: from organic beef and dairy pig
House sausage
Farmers salami
Air dried beef
Bacon – from the loin, belly or mop of hair
Meatproducts
Beef quarters and beef sides for gastronomy and hotel industry from Schwabhof, Hirschleiten, Stockham, …
Beef ready to cook, nose-to-tail packages for households from Schwabhof and Stockham.
Pork for sausage production
Pork ready to cook, nose-to-tail packages for households from Schwabhof and Stockham.
Roast chicken ready to cook from Großwidmoos
Fattening turkey ready to cook, nose-to-tail packages for households from Großwidmoos
Soup chicken whole from Wagrain chicken village
Eggs & Pasta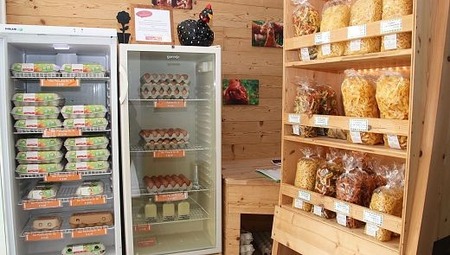 from happy free range chickens
Eggs
Packs of 6
Packs of 10
Layers with 30 eggs
Pasta in 250g and 500g packages
Soup noodles
Spiral noodles
Spaghetti
Chilli noodles
Spot noodles
Tagliatelle
Egg liqueur 200ml
These products are available around the clock, 365 days a year, in the farm store at Steinbach in the Wagrain chicken village, with self-service and trust checkout.
Bread & Pastries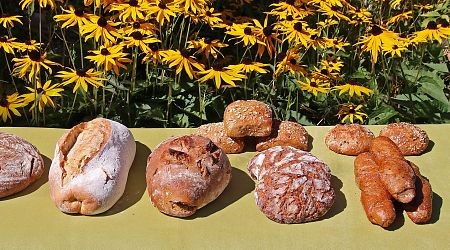 Bakery Steinbauer
Organic bread & pastries from master baker's hand
Organic pastry
Organic grain tip
Organic yogurt roll
Organic barley vinschgerl
Organic grain breads
Organic original grain bread
Organic pure Bread
Organic sun bread
Organic rye bread
Tea & kitchen herbs
for fine cuisine and soothing everyday tea

Tea blends in 10g, 30g and 45g packages 13 tea blends with selected main herbs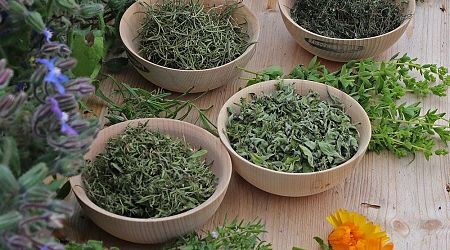 Winner – active tea: lemon verbena, lemon balm, cornflower
Don't worry be happy – Good mood tea: orange mint, marigold, raspberry leaves
Brise – Refreshing tea: green mint, mallow, calendula
Adam – Men's tea: lemon mint, willowherb, golden balm
Eva – Women's tea: yarrow, lady's mantle, rose petals
Throat soothing – mallow, marshmallow, cowslip
Mummy – cold tea: sage, lime blossom, elderflower
Heroine – immune system tea: lime blossom, elder blossom, black currant leaves.
Sleeping Beauty – sleeping tea: lemon balm, lavender, St. John's wort
Home sweet home – House tea: lemon balm, mullein, raspberry leaves
Lou-Lou – Waterlasser: birch leaves, nettle, horsetail
Stomach friend: mint, yarrow, chamomile
Family blend: apple mint, raspberry leaves, elderflower
Products from alpaca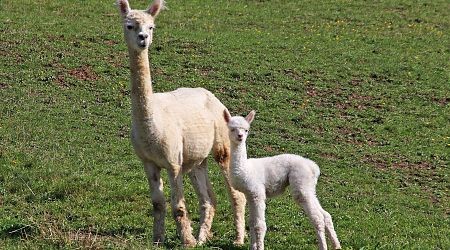 Highest quality alpaca wool and wool products. The alpaca wool is washed at the farm and further processed into fine fleece.

The alpaca fleece is used to make bedspreads, upholstery, knitting wool or felt products.
Hand sewn quilts filled with 100% pure alpaca fleece in 100% organic cotton fabric.
Warm alpaca felt shoe insoles
Alpaca socks in different models for sport and leisure or elegant
Spunbond and knitting wool in different natural colors
Accessories and gifts
Voucher for alpaca hike, children's birthday party and farm products
The alpaca products from Kitzsteingut are available among others:
Lagerhaus Altenmarkt und St. Johann
Bios Radstadt
Grübl's Naturgartl, Altenmarkt
Fairkauf ITS Altenmarkt
Farm store at Hirschleiten
Honey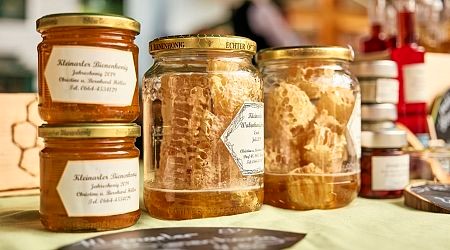 Organic Honey from GROSSWIDMOOS
2019 a forest and flower honey mixture
Honey in 250g, 500g and 1000g jar
From the farm and in the farm store at Hirschleiten.
For everyone who is curious now and wants to find out more about the brand can have a look at the homepage of "BIO aus dem TAL": https://www.wagrain-kleinarl.at/de/entdecken/bio-aus-dem-tal.html