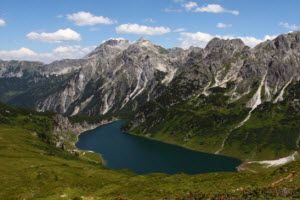 The Tappenkarsee is a beautiful lake, a natural reservoir, situated high in the valley of Kleinarl at an altitude of 1,762 meters. From the lake mountain slopes rise steeply to a height of approximately 2,400 meters.
Tappenkarsee on the main Alpine ridge
The Tappenkarsee is located right on the main ridge of the Alps. Often the clouds come gliding in over the peaks, and then spontaneously disappear. This is caused by the Föhnwinds and provides for a beautiful spectacle
At the edge of the lake you will find the mountain slopes . These are part of a walking trail and open for hikers in the summer. From there you have a magnificent view of the dark lake with its clear water.
Trail to the Tappenkarsee
A trail runs from Jägersee to the Tappenkarsee. The whole walk takes about four hours. But you can park your car further on on the road where, at the foot of the climb where you will find a small car park.
The trail is not difficult, but rather long with a 600 meters climb. Once at the top, you will be astonished by the beauty of the surroundings. Rolling alpine meadows that turn into rock formations, separated by a natural reservoir.
The Tappenkarsee is surrounded by a footpath that goes all the way to the Tappenkarseehütte. Several more trails lead to the Großarltal and along the Alpine ridge in the direction of Lungau.
The legend of the Tappenkarsee
The Tappenkarsee is known for a number of legends. According to one ancient legend, in the depths of the lake, a tapeworm is steadily eating its way through the rocks of the natural reservoir. One day this will result in water flowing across the valley of Kleinarl.
A more realistic legend is that Archbishops of Salzburg had their trouts ordered from this lake. They are very tasty due to the excellent water quality. However, nowadays it is not permitted to fish without authorization.
Visit Tappenkarsee
Would you like to discover the Tappenkarsee and check the story of the tapeworm? Would you like to walk around the Tappenkarsee and enjoy the beautiful alpine ridge? Book an overnight stay at our accommodation in Kleinarl, and you will be assured of a carefree holiday.