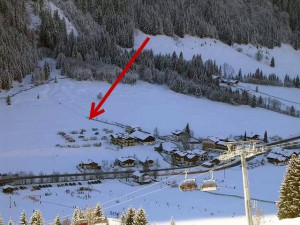 Camping in the winter is fun! Are you looking for a wintercampsite in Austria? We have a ground with space for 25 caravans during the winter. It's a cosy campingsite with a beautiful view over the Austrian alps. You can bring your caravan from the middle of october till the the middle of april.
During the winter it's possible to ski from your caravan to the skilifts of Ski Amadè. You only have to cross the main road, which is covered with snow most of the time.
In addition is our campground located next to the cross country slope (Wagrain-Jägersee) where you can enjoy the beautiful landscape of Kleinarl while you do some cross country skiing.
Wintercampsite Austria- Camping Stockham
Most of our guests are loyal: they keep returning to our place every year. Some oft them for more than 20 years!
They like the cosy atmosphere and often the campers have a drink together in the evening after experience the slopes.
Our winter campsite has about 25 seasonal pitches and also offers space for temporary campers. If you just want to stay for a few days (min. 3 nights, possible from the beginning of december till the middle of april)) just ask about prices and avalabilities
Your caravan can stay here the whole wintertime, so it gives you the freedom to come whenever you want to.
Hans (56), entrepreneur

On a day in 1995 we suddenly saw the sign "Camping" along the road. We had a look and decided to go for the adventure. The next year, we booked this campingsite and we were overwhelmed by this place.
We keep returning to this place for twenty years now. It has become our second home. I highly recommend this place for people who want to leave their caravan throughout the winter season in Austria.
There is a guarantee of snow in Kleinarl. Usually there is more than 150 cm of snow in the valley. So keep in mind that the caravan may be snowbound sometimes. Therefore we recommend you to contact us before you travel to Kleinarl. Then we make sure the road is passable for the caravan.
Winter camping Austria – Facilities
The winter camping is equipped with the following facilities:
25 seasonal pitches with power supply
several non-seasonal pitches with power supply
Free WIFI
Toilet and shower rooms men / women (separately)
Chemical toilet discharge
Heated storage for skis, snowboards and boots.
Winter camping Austria – Location and accessibility
Winter camping is easy accessible. It is only 15 km from the exit 66 Flachau (A10) away. Follow the road that leads to Wagrain and than all the way to the campsite. This road has no switchbacks and no difficult passages.
If you want to stay here just temporary please please contact us!
View the beautiful movie of the campsite:
On Youtube is also a funny movie of a campsite guest, who has flown an RC airplane through the air.