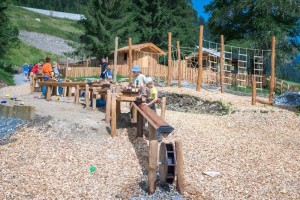 Experience the most exiting adventures in Adventure land in the middle of the wild nature! This challenge is waiting for you in 'Adventure land' in Kleinarl, in the Salzburgerland.
'Adventure land' is located next to our farm, close to the mountain, and is an ideal playground for kids. Children will be entertained over there by experienced entertainers.
Meanwhile, their parents can spend some time on their own. The park is opened from Monday to Friday from 10 a.m. until 4 p.m..
There is a possibility to have lunch under supervision between 12 and 01:00 p.m. in 'Familyhotel Botenwirt'.
The mission of 'Avonturenland , is to give children a great opportunity to experience the natural processes of our environment. They will learn how to take care of animals and the whole nature itself.
The Adventure land program:
Feeding animals on the farm
Playing watergames
Climbing tracks
Slack lining
Pony riding
Making campfires
Fish on trout's
Crafting
To bake bread
And lots of other things
You can find more information on http://www.abenteuerland-kleinarl.at/