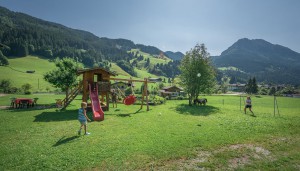 Summer in Kleinarl means nature, lush meadows, wide forests, enchanting scenery, fresh mountain light and crystal-clear lakes and streams. All under the scenery of the local mountain of Kleinarl, the "Ennskraxn".
Summer in Kleinarl – Walking!
The valley of Kleinarl has several pastures that can be visited by foot. Or what about a brisk walk around the Jägersee? This crystal clear lake is one of the most beautiful places in Austria and has something magical. You can relax at the guesthouse and enjoy the amazing views.
For the real fanatics there is the Tappenkarsee. This is a trail that the valley runs along the deeper Jägersee up in. The Tappenkarsee is situated at 1762 meters altitude and has many beautiful alpine meadows and crystal clear (cold!) water. That is also the summer in Kleinarl!
Your summer will be a fairy tale:  a carefree time for children on a farm, far away from traffic. The time stood still here.