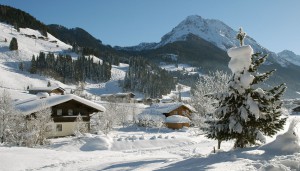 Winter in Kleinarl stands for winter sports in a beautiful environment. The Kleinarl Ski Area is part of Ski Amade, the largest ski area in Austria. The high location of the village (1014 meters) Kleinarl ensures snow guarantee and there are perfect slopes.
Winter in Kleinarl is winter sports!
Us with "four blumen" BioBauenrhof assessed is located directly on the cross-country trail. You can walk to the ski lift because Stockham is on the opposite side of the nursery slope and is only 200 meters away from the 6-chairs lift. You just need, after skiing, to cross the road.
From the ski lifts of Kleinarl, you have perfect access to the largest ski area in Austria, the 'Ski Amade'. You can take the free ski bus "Kleinarl- Flauchauwinkel- Zauchensee" to Wagrain, Flachauwinkl and Zauchensee. The ski bus takes you to the Grafenbergbahn.
From this place, you can make ski trips to Sankt Johann im Pongau and through the brand new G-link, it is also linked to Flachau. Winter in Kleinarl means that you do not get bored. How about taking a ride on the "Hausberg" of Stockham or take a walk through to the beautiful walks winter landscape.
Kleinarl is a snow-guarantee location and has the ability to provide virtually all slopes with artificially snow. This is for perfectly prepared slopes!
Guests who stay with us, have also free access to the pool of Wagrain. Every day, guests can spend two hours along the "Erlebnisbad Wasserwelt Wagrain".